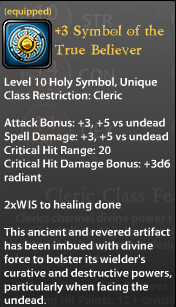 This ancient and revered artificat has been imbued with divine force to bolster its wielder's curative and destructive powers, particularly when facing the undead.
Level 10 Holy Symbol, Unique
Class Restriction: Cleric
Attack Bonus: +3, +5 vs undead
Spell Damage: +3, +5 vs undead
Critical Hit Range: 20
Critical Hit Damage Bonus: +3d6 radiant
2xWIS to healing done
(Since May 10th, 2012)
Buy Price: 150 AD / - G
Sell Price: 0 G
Known Locations
Edit
Ad blocker interference detected!
Wikia is a free-to-use site that makes money from advertising. We have a modified experience for viewers using ad blockers

Wikia is not accessible if you've made further modifications. Remove the custom ad blocker rule(s) and the page will load as expected.