An Ancient Curse is a level 4 dungeon located in the Neverwinter area.
Requirements
Edit
Adventure Description
Edit
A beautiful woman named Miloni apprached you, her eyes wild and desperate. She says that, years ago, her mother broke the heart of a cruel sorcerer. Out of spite, he cursed her, dooming her and her daughter to an untimely death should they pledge their love to another. The sorcerer used two lockets, a paired gift that Miloni's mother refused, to create the curse. To break it, the lockets must be recovered. The sorcerer was buried in Neverdeath. Perhaps the lockets were buried with him
Adventure Unlocked (Upon Completion)
Edit
Room Layout
Edit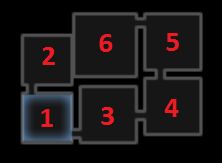 Enemies: 1x Bonefire (Mini Boss)
Loot: One Locked Chest (Item Loot)
Loot (Room 2)
Edit
Ad blocker interference detected!
Wikia is a free-to-use site that makes money from advertising. We have a modified experience for viewers using ad blockers

Wikia is not accessible if you've made further modifications. Remove the custom ad blocker rule(s) and the page will load as expected.