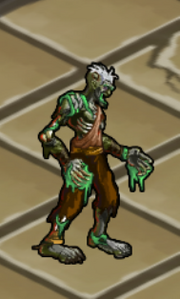 Mote of Corruption

Ranged, necrotic damage
Weakens

Putrid Death Burst

Activated on death
Burst damage, necrotic
Level 4 Stats:

AC: 12
REF: 9
FORT: 11
WILL: 9
HP: 40
Level 6 Stats:

AC: 14
REF: 11
FORT: 13
WILL: 11
HP: 48
Level 8 Stats:

AC: 16
REF: 13
FORT: 15
WILL: 13
HP: 56
Encounter Areas
Edit
The corruption corpse hurls globs of necrotic matter at living creatures until one or more living creatures close to within melee range, at which point it makes slam attacks.
Ad blocker interference detected!
Wikia is a free-to-use site that makes money from advertising. We have a modified experience for viewers using ad blockers

Wikia is not accessible if you've made further modifications. Remove the custom ad blocker rule(s) and the page will load as expected.