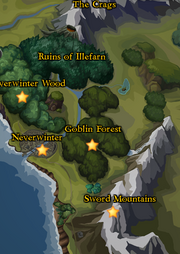 Heroes of Neverwinter contains 55 dungeons in six separate areas of varying levels and difficulties. By completing each adventure, the player earns experience, gold, and items that further advance his/her characters.

To consult a list of dungeons by level, click here!
List of Dungeons By Area and Level
Edit
NeverwinterEdit
Goblin ForestEdit
Neverwinter WoodEdit
Ruins of IllefarnEdit
Sword MountainsEdit
The CragsEdit
Adventure Chains
Edit
Some adventures are unlocked according to the character's level but others also have previous adventure completion requirements. Refer to the "Adventure Chains" page for more information.
Sortable Dungeon Table
Edit
Ad blocker interference detected!
Wikia is a free-to-use site that makes money from advertising. We have a modified experience for viewers using ad blockers

Wikia is not accessible if you've made further modifications. Remove the custom ad blocker rule(s) and the page will load as expected.