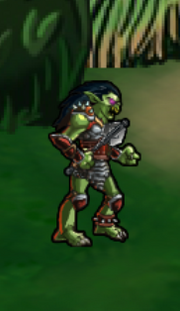 Mace
Bloodied Rage

Activated on bloodied
Melee, normal damage
Level 3 Stats:

AC: 13
REF: 12
FORT: 15
WILL: 11
HP: 36

Level 7 Stats:

AC: 17
REF: 16
FORT: 19
WILL: 15
HP: 52
​​Encounter Areas
Edit
Uncharacteristically brave, goblin skullcleavers charge boldly (perhaps foolishly) into melee and use goblin tactics to move into flanking positions. When bloodied, they fly into a savage rage, attacking without concern for their own wellbeing.
Ad blocker interference detected!
Wikia is a free-to-use site that makes money from advertising. We have a modified experience for viewers using ad blockers

Wikia is not accessible if you've made further modifications. Remove the custom ad blocker rule(s) and the page will load as expected.