Hatchery in the Woods is a level 4 dungeon located in the Neverwinter Wood area.
Requirements
Edit
Adventure Description
Edit
WANTED: Deathjump spider eggs. 'Tis hatching season, so while most sane travelers should thus avoid the forest as they would the plague, the Moonstone Mask inn seeks adventurers willing to risk a poisonous death to provide the quality of Neverwintern society with the gastronomical ecstacy that only our famed Spider Egg Souffle can afford. (The Moonstone Mask assumes no liability for any injury, impairment, or death that may occur).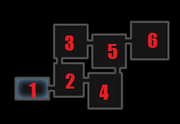 Room Layout
Edit
Room 1 (The Spider Hatchery)
Edit
Room 3 (Skeleton Heap)
Edit
Ring
Helm
Hard
- 3 Items among:
- Gold (15, 15, 25, 35, 75)
- Consumables:
Ad blocker interference detected!
Wikia is a free-to-use site that makes money from advertising. We have a modified experience for viewers using ad blockers

Wikia is not accessible if you've made further modifications. Remove the custom ad blocker rule(s) and the page will load as expected.