Keep Your Enemies Close is a level 3 dungeon located in the Neverwinter area.
Requirements
Edit
Adventure Description
Edit
CONTRACT: Travel to Flamemark Manor and inform Cyro Bramblebush of the status of the Shattered Sewers 'bandits.'
Room Layout
Edit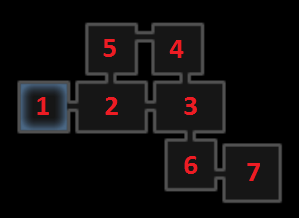 Room 4 (Locked)
Edit
Treasure: One Locked Chest (Glyph Loot, Basic Loot)
Treasure: One Unlocked Gold Chest (Item Loot)
Loot (2 items - 1 Armor, 1 Weapon)
Edit

Glyphs found:
Heroic
Hard
Normal
Ad blocker interference detected!
Wikia is a free-to-use site that makes money from advertising. We have a modified experience for viewers using ad blockers

Wikia is not accessible if you've made further modifications. Remove the custom ad blocker rule(s) and the page will load as expected.