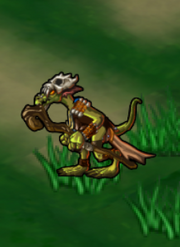 Incite Faith

Heal allies
Allies gain + to attack

Energy Orb
Cold Dragon Breath

Activated on bloodied
Burst Damage, cold
Level 3 Stats:

AC: 8
REF: 8
FORT: 6
WILL: 8
HP: 36
Level 7 Stats:

AC: 12
REF: 12
FORT: 10
WILL: 12
HP: 52
Level 8 Stats:

AC: 13
REF: 13
FORT: 21
WILL: 13
HP: 56
Level 10 Stats:

AC: 15
REF: 15
FORT: 13
WILL: 15
HP: 64
Encounter Areas
Edit
A wyrmpriest keeps lots of kobold underlings between it and its enemies, using incite faith to embolden them. It prefers to make ranged attacks using energy orb, and enemies that get too close are blasted with dragon breath. A wyrmpriest's energy orb deals damage of a specific type based on the type of dragon the wyrmpriest serves or reveres.
Ad blocker interference detected!
Wikia is a free-to-use site that makes money from advertising. We have a modified experience for viewers using ad blockers

Wikia is not accessible if you've made further modifications. Remove the custom ad blocker rule(s) and the page will load as expected.