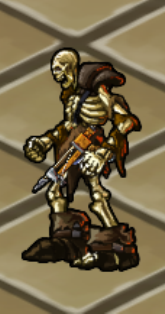 Vulnerable to radiant damage.
Level 4 Stats:

AC: 16
REF: 16
FORT: 13
WILL: 9
HP: 26
Level 6 Stats:

AC: 18
REF: 18
FORT: 15
WILL: 11
HP: 34
Level 8 Stats:

AC: 20
REF: 20
FORT: 17
WILL: 13
HP: 42
Encounter Areas
Edit
Animated by dark magic and composed entirely of bones, a skeleton is emotionless and soulless, desiring nothing but to serve its creator. Skeletons are often used as guardians in dungeons and tombs. They also serve as basic infantry in undead armies.
Ad blocker interference detected!
Wikia is a free-to-use site that makes money from advertising. We have a modified experience for viewers using ad blockers

Wikia is not accessible if you've made further modifications. Remove the custom ad blocker rule(s) and the page will load as expected.