[Note: The information in this article was updated on Dec 9th and takes into account the Dec 8th announcement made by the Warbands staff on the D&D Warbands Facebook page]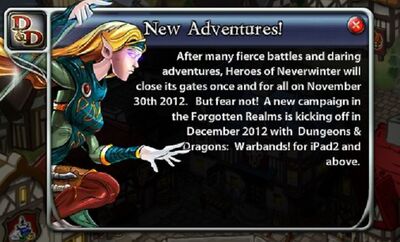 On November 1st, Atari announced the close of the Facebook game app "D&D Heroes of Neverwinter" on November 30th 2012. Players logging in to play the game saw the picture to the right at the Town menu.

The Atari developpers plan to replace this game by a new game app that was ealier tested in closed beta for a few months, D&D Warbands. Despite what was initially mentionned (see picture below), the Warbands staff announced on December 8th that the live Warbands app will be launched on December 18th 2012 only for the iOS platform (by Apple, hence iPad 2 and above, etc) in the US and Worldwide. The Facebook app, however, will be launched later, at the end of January 2013. Visit the D&D Warbands page for up-to-date information!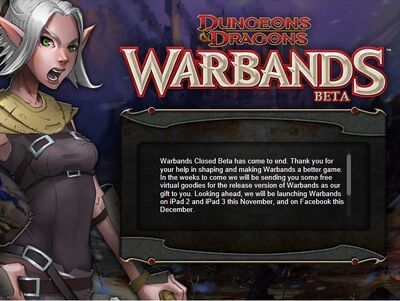 What does this mean for this wiki? Well, although regular updates should not be expected after November 30th, this wiki will stay up even after the close of the game. Most of our Facebook group members plan on playing the upcoming Warbands game. If you would like to discuss the game with us, feel free to join our Facebook group (D&D Warbands Players). Also, we hosted a screenshot competition during the month of November to commemorate the close of the Heroes of Neverwinter game and a winner was declared! Take a look at the Screenshot Competition page.
On a more personal note, I've had a lot of fun playing Heroes of Neverwinter and editing the wiki at the same time. I hope to see some of you in Warbands, once it comes out.
Cheers,
'Madamwest' (profile | wall | contribs) 23:53, December 9, 2012 (UTC)
Ad blocker interference detected!
Wikia is a free-to-use site that makes money from advertising. We have a modified experience for viewers using ad blockers

Wikia is not accessible if you've made further modifications. Remove the custom ad blocker rule(s) and the page will load as expected.